Registration is closed and it looks like we have a tremendous group once again this year!!!
Our last short season I began to work on best systems and practices for admin of the NCBSO. Ethan has done an amazing job working, strategizing and collaborating with me to create the best ways for all this to run smoothly and with as much technology-assist as possible. The result has been the move to WorshipPlanning.com to keep up with who is coming or not and provide a source for brief email communication. Then, I built a new website that can be a communication and resource hub for us (NCBSO.org) and I believe I about have it tweaked to do all I had hoped it would do. Sorry for any hiccups along the way. We are building this plane as we fly!
BIRTHDAYS
Note when you login to NCBSO.org, you will see a list of upcoming birthdays. If you log in today you will see it is Dan Cuthriell's birthday! Happy birthday, Dan! I noticed that many of you have not yet uploaded your pictures.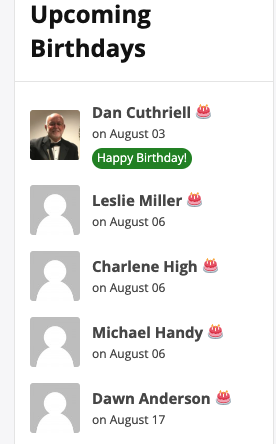 PREP FOR RETREAT
Remember you need to be familiar with all the songs for the season before you come to the choir retreat. Download the mp3s and listen to them in your car or while you are working. Take a look at the music and get familiar with your parts. Retreat is once again going to be more than just intense rehearsals, so we want people to have a level of familiarity with everything before coming. We will have words on screen for all songs this season to assist you and so we can do a number os songs without holding music.
WorshipPlanning.com
Be sure to login to WorshipPlanning.com and update your information. You will receive messages from that portal as well as queries related to concert attendance. If you cannot find the email that gave you login instructions, just go to the site and to the login and choose RESET PASSWORD and enter the email address you use for NCBSO (the one that is receiving a notification of this communication. You will then receive an email to assist you in getting in. Remember the password you set. You may want to make it the same as the NCBSO.org site so you more easily remember that one.
Within WorshipPlanning.com, you are assigned either orchestra OR choir. Those of you that sing but sit in the orchestra have an orchestra assignment. This is so that we will get an output of personnel for seating purposes–how many trombones, how many alto 1s in the choir, etc. Those of you that play piano or keyboard are assigned your choir part if you also sing or your other instrumental part if you play in the orchestra. Again, this is for our purposes of setup (we always have a place for piano and keyboard, but everything else is variable.
DO YOU WANT TEXT MESSAGES OR FACEBOOK NOTIFICATIONS WHEN WORSHIPPLANNING SENDS OUT SOMETHING TO YOU?
You can go into WorshipPlanning.com, choose My Account when you hover over your pic in the top right, theh click COMMUNICATION SETTINGS in the middle of the page. You will see an option to add your cell phone. Check all the boxes and you will receive a text message whenever something is sent out from WP. Note: you will not get a text when something comes out of NCBSO.org, however. You can also setup notifications to go to your Facebook account!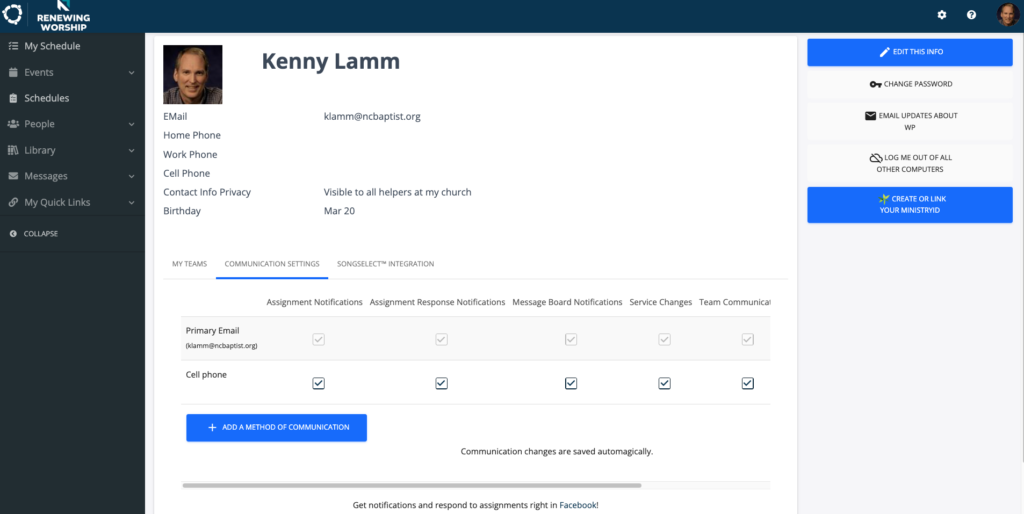 LIFE VERSE
Your life verse that you submitted will be printed on your name tags (printing today). Please memorize it and be familiar with it and ready to share why it is meaningful to you.
PRAY
Begin now to pray for one another and our opportunities to share the Good News throughout our season.
I am so thankful for each of you!
Kenny